About Us

Vintex Fire Protection (P) Ltd., which today is a leading ISO 9001:2008 certified company of safety & surveillance products industry, started its journey 5 years back with the name Safetech Fire Engineers. We are one of the largest manufacturers, suppliers, traders and exporters, bringing forth ISI marked and varied types of Fire Extinguishers to customers. Our gamut comprise CO2 Fire Extinguisher, Clean Agent Type Fire Extinguisher, Portable Fire Extinguisher, Aro Resistant Gloves, Body Protection Header, Hose Heel, Hydrant Valves, Danger Flammable Hazard etc. Making use of A grade raw inputs, these are developed by experts as per national norms.

Our company is serving the clients as a service provider, by rendering reliable Design & Engineering, Installation and Testing & Maintenance Services. In addition, customers can give us Turnkey Projects of Fire Protection Systems like Clean Agent Systems (FM-200FE 227E), MVWS Systems, HVWS Systems, Fire Hydrant Systems, Fire Alarm Systems etc.

With our high focus towards research & development activities and products quality, we are setting milestones of success for ourselves in the market. The R&D tasks we conduct help in bringing regular improvements and upgradations in the product-line. Further, ours is a customer focused firm, which understands the safety & security concern of customers and strives to render best solution.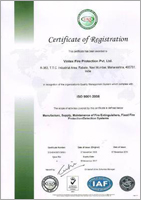 Read More